Area rugs come in various shapes, sizes, and designs. Adding a rug to your home or office in Miramar Beach, FL can help to replace an older design, update the overall feel of the space, and even add function. The process doesn't have to be overwhelming. At Big Oak Tree Rug Gallery, we have professionals who can help you with measuring your space and shopping the various
Persian, Turkish, and Oriental rugs
that we have available.With over 1,000 rugs in inventory, we'll have just what you're looking for so that you can transform your space in a beautiful way.
Area Rugs
There are countless reasons why you might want an area rug – to disguise a damaged floor, to protect a luxury floor, or simply to provide added decoration and color to a room. When you choose a stunning area rug from our inventory, you're guaranteed to have a work of art.
We work with you to make sure you have the right-sized rug – whether you are looking for a runner down the hall or a centerpiece for a large room. We'll even help you with the measurements during an in-home consultation.
It's important to consider the colors that you want to draw out in your room. Color doesn't simply have to come from wall paint and room décor. It can also come into play from the area rug – and many Persian and Turkish rugs are known for their color-layering techniques.
Foot traffic is also something you need to consider – especially if you have a number of clients, children, or pets passing over the rug every day. Some area rugs are more durable than others. We want to guide you toward the best possible rug for your space so that it is a lasting investment.
Knowing more about the different types of rugs can help you to understand the history and determine what kind of statement you want to make inside of your home or office.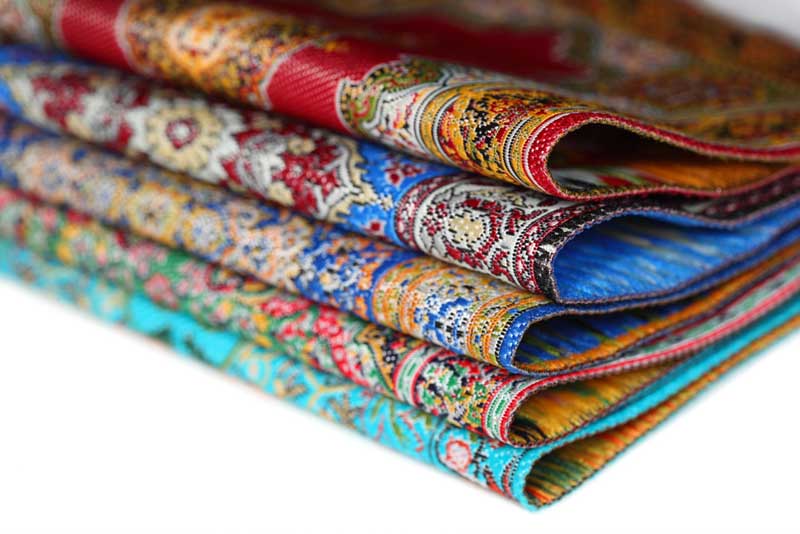 Persian Rugs
Persian rugs are made in Iran – Persia was the historic region that is now known as Iran. Most of the Persian rugs are actually referred to by regions and cities in Iran, such as Nain, Hamadan, and Tabriz.
The rug weaving industry has been alive and well in Persia for hundreds of years. While the techniques have changed a bit with modern technology, the underlying principles and qualities have not.
Many of the rugs within our collection are still hand-knotted – and you can find both traditional and contemporary designs to decorate your space. The craftsmanship is what makes them so desired – and may include fringe, central medallions that can tell a story, and much more.
Antique Rugs
Antique rugs are commonly mistaken for being old. While the designs are old, the rugs that we sell are new – allowing you to take home a piece of history without the musty smell.
We have antique rugs that are Turkish, Persian, and Oriental, allowing you to encompass any number of colors and designs. The sizes vary from 2' x 2' to large enough to fill a large living room or formal dining room.
Many of the antique rugs have classic designs that were used over 100 years ago. It allows you to choose something timeless without having to worry about a design trend dying just weeks after you make your investment.
Antique rugs are well-known for their muted and neutral colors, allowing you to place them in any room without the color distracting from the other décor in the space.
Turkish Rugs
Turkish rugs are highly sought after – and have been even before the end of the Ottoman Empire. Today's Turkish rugs are made in Turkey. They still use the double-loop weave which is what they are known for. It provides symmetrical beauty that also increases the knot count on a rug. It makes them extremely durable – which is ideal when you have a lot of foot traffic crossing over your rugs.
Turkish rugs are known for incorporating a significant number of colors. Rather than it being overwhelming, it actually creates a soothing and serene effect. Additionally, it allows a Turkish rug of any design to be incorporated into your décor. Even if you change the primary color scheme, your rug will still work inside the room. It's why you can invest in a Turkish rug with confidence knowing that it will coordinate.
Oriental Rugs
Oriental rugs encompass all types of rugs that are manufactured in Asia. Many Asian countries, such as China, Russia, and India, have a long tradition of weaving rugs.
Wool is the primary material that is used, but bamboo, silk, and other materials are often woven in as well to create softness and add a sense of luxury.
Persian rugs are Oriental by nature, but they are categorized separately because it is such a large industry.
All Oriental rugs, including Persian ones, use a single-loop technique that is different than the Turkish design. It creates an asymmetrical beauty – and it allows for a lot of coloring to be layered in.
Vegetable dyes are commonly used, allowing for vibrant colors – and the colors will last, so you don't have to worry about the rugs fading over time.
As you shop for Oriental rugs, you'll want to consider the design you want. Many incorporate floral patterns, animals, geometric patterns, and more. We have a large inventory of options for you to choose from in almost every size.
Need Rugs?
Beautiful rugs are just a phone call away when you're in Miramar Beach, FL. At our rug store, we'll show you why so many homeowners trust us with their area rugs. We have stunning designs at affordable prices. Our in-home consultations also provide an enjoyable experience so you can be confident that you have the best design for your space, so contact us today.
With our free delivery, too, we make it easy for you to get the rugs you need so that you can begin decorating your home or business quickly and effectively.